Erden Eruç: An Ocean Rowing Turkish Man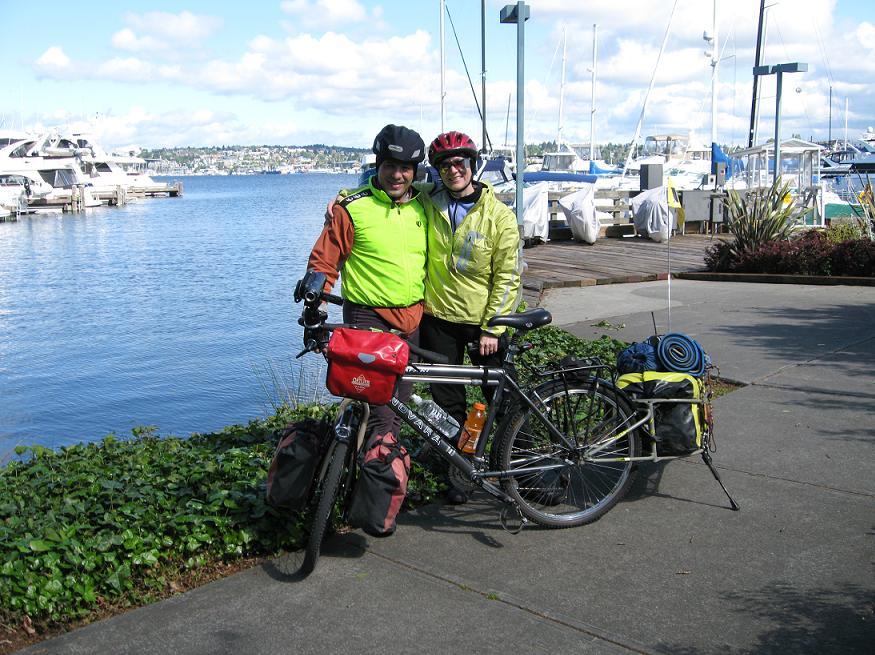 An article about one special person who supported Erden Eruç wholeheartedly… 
On May 3rd, "The Six Summits Project" started again. Turkish adventurer Erden Eruç sat off on a bicycle ride from his home in Seattle toward Tiburon near San Francisco, where he will launch his ocean rowing boat across the Pacific Ocean toward Australia. His goal will be to reach the summit of Kosciuszko, the highest point in Australia, by human power from Seattle. He has already climbed Mt. McKinley in Alaska by human power from Seattle back in 2003.
His solo Atlantic Ocean row earlier in 2006 provided Erden with significant firsthand experience to be applied to his Pacific crossing. Since 1997, Erden dreamed of a human powered journey around the world, and he added the highest summits on each continent along the way as a tribute to Göran Kropp, a friend he lost while rock climbing together. The result is the Six Summits Project, Erden's quest to climb the highest summits on six different continents by human power. He will cross the oceans by rowing in a westward push to reach the next continent. From the point of landfall, he will travel to the highest peak on that continent by bicycle, where he will meet his friends for the climb. He will relay the journey and the experience to the students via the internet.
Erden's rowing odyssey across the Pacific Ocean will being on June 2 from the Corinthian Yacht Club in Tiburon, if the weather cooperates. He estimates the 6700 nautical mile single-handed crossing to take about 8 months.
One special person who supported Erden wholeheartedly…"without reservation" for making decision that he should follow his long time dream of circumnavigating the world was his wife Nancy Board and we talked with her for Turkish Journal about herself and this adventure…
When Nancy first met Erden, she learned that he wanted to accomplish this dream of going around the world by human power. She said to herself, "what kind of person dreams this big?" She knew soon that he was an extraordinary person…and she wanted to know more.
Are you proud to be able to support him? 
Yes, I am. Because I know what it takes for him to do this. I admire his strength, his integrity, his determination, his will, his ability to endure physical pain, and his desire to help people worldwide, especially children. These are all qualities that I support and admire. I wanted to see if we together, could make this dream a reality. I did not want to look back one day and regret that we didn't try hard enough. We simply made the decision to move forward. When this happened, there was no looking back. We kept our eyes focused ahead, and began to build our lives with this unknown way of being as a couple. There was no one that I could turn to who would understand my part…my role….my experience in the relationship. I had to figure it out at life took me.
When Erden got laid off from his job in Seattle in spring of 2001, and they made the decision that he should follow his long time dream of circumnavigating the world…his father was very afraid that Nancy would not support him and stand by him. "A man must have his occupation!!" he once stated. This decision was very hard for Erden to make also, as he did not want her to be the sole financial supporter of their household. And yet, she was comfortable with this decision and with him taking this chance. She supported Erden wholeheartedly…without reservation…and this gave her a new respect from "Babacım" He understands her heart….and "That is the most important thing" she says with a small smile.
"In the beginning though, it was tough" 
"I have wonderful supportive friends who are there for me. Many people felt what Erden was doing was selfish…and that he was abandoning me. I did not feel this way. Yet it amazing how people will put there own beliefs about how they see things onto me….whether or not that is what I believe!!! Erden finds the same thing when he tells his story. People see this journey through their own mind's eye. And they project onto us what they are…NOT what we are. Part of my journey is to see this…hear them…and let it be. It is their view…not mine. And that is really OK."
She has been at this for 4 years now…experiencing life as the adventurer's wife. (They have been together now a total of 7 years) "Erden and I have been apart as much as we have been together in our relationship. That would be very strange for most people, but I knew what I was getting into when I met him, and certainly when I married him. So I do not complain about this. It was my choice" she says.
Was it stressful? 
A few years ago though, things got tough for me. I was taking on more responsibility with Around-n-Over, my job was very busy, we moved our household…I did 80% of that move by myself…then later that year I moved us again when he was on the road. This was way to much stress for me to bare, and I had what I call a "meltdown." I crashed emotionally…I was drained, and I felt very sad and depressed for awhile. At this point, when I began to show vulnerability, some people around me expressed their displeasure for what Erden was doing and that he "should" be here to support me. I began to realize that as long as I am strong, people don't show what they really think. When I was weak, people then quickly jumped on the side of that I needed him to take care of me. I know they were just showing their care and concern…They wanted the best for me too.
"It didn't matter if I wanted to spend time with Erden or not…" 
What was your goal?
Once I could sort all of this out, the decision that I came to was that I had taken on way too much responsibility, and that I needed help. I relinquished a great deal of my work with our non-profit, Around-n-Over, and I began to set goal for myself that were physical and emotionally rewarding. I set a goal to hike a huge peak that summer and I began training to get in shape for this. I hiked 2 days a week for months without fail. It didn't matter if I wanted to spend time with Erden or not…I went hiking!!!! I stuck to my goal! This was so important. I think that women especially will often "lose" themselves in a relationship and sacrifice their needs so often for their husband, and I decided that I could not do this the same way, or I would suffer the consequences again. So making the decision to live my life in a new way, made a huge difference in my "surviving" this new way of life.
She continues, "I have learned that couples can be much more connected spiritually when there is no physical connection"
Did you worry about your relationship?
We are now stronger as a couple than before. To be married to a man like Erden means that he is not always there for me, obviously! And instead fo getting angry at him and taking it out on him, I learn to accept this as part of my life, and find other ways to take care of myself. In many ways, I think this is a very healthy way to live….not expecting any one person to meet all your needs. No one can do that. Yet so many couples put this expectation on their mates I feel.
If I wasn't such an independent person to begin with, I may not make the best mate for Erden. I enjoy my time alone, and I do not worry about him. If I worried all the time, who would I be? Worry is an emotion that I have control over. I choose not to let it run my life.
I think about him all the time when he is gone. Our relationship is more than just physical… it is also emotional and spiritual
The longest time so far that Erden has been away from her is 8 months. This is hard on both of them….Nancy thinks " more for him than herself" and "at least I have support of friends and family here….he is alone" she says. But she also draw strength from him and what he is doing. She respect him, and is happy to spend her life with someone who she respect so much. "I have pushed myself further in ways I never would've before if it were not for Erden. I am also a stronger and better person for knowing him" she says.
"We are a team in this together" 
" I am also very clear about my role in this adventure and that he couldn't do this without me…and without my support. My job is to stay in the background, and he is in the limelight, so to speak. Yet, I know my part in this journey….and I am proud of me too!!I am glad to be spending my time on this earth with a higher mission than I would have ever known"
Relationship with her Turkish in-laws
She is still learning Turkish and she thinks "it is not very good YET!!!" She would like to improve. She plans to go back to Turkey this winter (it will be her 3rd trip there) and she wants to converse more with her mother in law (Ozgen Hanım).
"We are connected at the heart" 
"Ozgen Hanım does not speak English, and yet of all the times we have been together (she has been to my home here also) we manage just fine to communicate our ideas (at least somewhat) and we can get along. She has a smile on her face for me, she is friendly and caring. I know we are connected at the heart" she says.
"She is not Turkish woman!" 
When Erden told his parents that he would marry her, his father was concerned that she is not Turkish. She was going to meet him and he did not choose her as the woman for his eldest son. How would he accept her? She wondered.
She realized that all she could do was to be herself. And that he would see who she is. And that she loved his son.
"I figured out who he was in the first hour of meeting him. He shared photos with me of his childhood, his military career, of his sons, and soon I realized how he viewed life…what he felt strongly about….how much he loved his family…and what matters to him now. I understood him, and I was grateful for this.
It still took him a while to warm to me completely. He was not used to my "American ways" of being an independent woman. I understood this, and was compassionate with his views" she says.
Nancy Board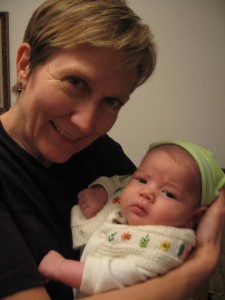 The baby is their niece, Irmak…the first grandchild and only baby in the family. "I am Yenge! And I adore her. She is the most beautiful baby in the world! She is 6 months old" Nancy says.
Nancy Board is Vice President of International Business Development at PPC Worldwide, a global provider of employee assistance programs, based in England. She also presents leadership and personal development programs through Insight Dynamics, where she is a founding co-director.
For over 15 years, Nancy has consulted and trained on issues related to leadership and service, workplace violence prevention, conflict management, and health and productivity. She has further used her expertise in leadership development and strategic planning to guide not-for-profit boards of directors.
As a widely respected leader and facilitator, Nancy also delivers training programs for "Woman Within International" across the USA, Canada, and South Africa. Her primary passion is helping women be their own best friend and find meaning and fulfillment in their lives and careers.
With her endless enthusiasm and energy, Nancy enjoys the outdoors through rock climbing, hiking, bicycling, and travel. As a founding member of our Board of Directors, Nancy's contributions to Around-n-Over have been indispensable.
You can see out website: www.around-n-over.org and also the Turkish version: www.Kaslagit.com for more information about them.
(Turkish Journal)