An Inspiring Classical Music Experience: Chroma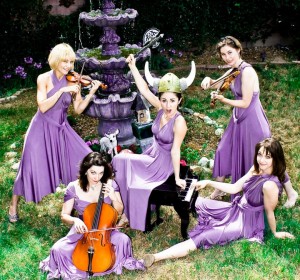 Chroma enchants and inspires children of all ages with intimate performances of classical music. Featuring colorful props, dynamic storytelling and audience participation a Chroma concert experience both entertains and educated.
Here is the story behind Chroma : They were five friends looking for a special kind of music to perform. Pianist Elizabeth Sawitzke, who also teaches young musicians classes came up with the idea, originally as a way to perform chamber music.
"I had many parents in my toddler classes asking me where they could take their children for classical music concerts for kids. I had to tell them that there was nothing out there for their 3 year old. The two ideas came together…" she said.
They wanted to create concerts that were special and different from the typical classical concert, and these families wanted to attend child friendly concerts. Here they are…
When Chroma around Bach, Mozart, Bartok, Piazzola, Bizet, Schubert, Gershwin flying all over the room!!!
I wanted to ask what made them different… 
"Color and humor! Our performances are interactive, light hearted, and perfect for children of all ages." said Elizabeth and Erika continued: "Costumes, sets, storyline."
Elif: "We don't want the children to be quiet! We want them to laugh, yell, dance and have fun. Not only mentally but also physically. Like a big party!"
I wondered if they had an audition experience…
Elizabeth answered: "We have not auditioned. Rather, we provide materials such as concert footage to interested venues."
Are there any artists that you use for inspiration?
Elizabeth: "None in particular. Of course, we all have a rich history of music, art, literature and theater to draw on which influences us consciously and subconsciously, but we don't have any one or two artists that we go to regularly for inspiration."
In your view, what is the hardest thing about performing for kids?
Elizabeth: "We all sing, dance, act, interact, wear costumes, and manipulate props in addition to playing our instruments. We are constantly transitioning from one skill or activity to another."
Elif: "We don't know what their reaction will be. So you have to gather up all your courage and go for it. We generally have a test audience. We try the concert on my son, and then on some families with large number of kids, so we know what is working or what should be cut out entirely. But kids are very open minded. I find it easier to make them laugh. They don't have chips on their shoulders, they don't carry the luggage of experiences on their backs."
Erika: "You never know how they are going to react… sometimes they are mesmerized, sometimes they ignore us completely. This is the most challenging aspect, I think."
How do you feel after a day filled with working with kids?
Elizabeth: "Energized and exhausted at one time."
Elif: "I am breathless, my knees are shaking and I am so wired, I can't sleep for two days!"
Erika: "Sometimes energized… sometimes exhausted beyond belief!"
So what works and does not work in a kids' show?
Elizabeth: "The children are drawn to colors, beautiful music, and moving their bodies to the music. Asking them to "sit still and pay attention" at age 2 and 3 will not work. The concert needs plenty of interactive pieces as well as pieces for the children to watch and listen that are accessible to them. We would not play a 30 minute Brahms trio, because their attention span is much shorter than that. Instead we might program a 3 minute excerpt from an aria with masks and dancing."
Erika added: "Balloons work for sure! The "sit quietly and listen" model doesn't work at all."
Do you think chaos works? 
Elif: Exactly… They love chaos, madness, extreme feelings of happiness and sometimes sadness.
Sadness? 
We don't keep the sadness out. It is a part of life, a part of art and music. When I am acting sad, I see those little faces, all worried for me. When I am acting happy, they are beside themselves, living all that through my character. Some activities work less well than others. Sometimes children are so used to having to sit down and be quiet during a concert, it takes them a while to understand that we want just the opposite. We have to bring them into the party sometimes, holding hands, bringing their parents in first.
Do you want to find shows that the parents will enjoy as well? 
Elizabeth: "The parents do enjoy the shows. Classical music is timeless and for people of all ages. They love to listen to the music, and they love to watch their children delight in the concerts."
Elif: "I agree Elizabeth, parents already do! We have musical jokes that are a little too sophisticated for kids to understand, and the parents will get them and feel like they are a part of this. There are also verbal jokes and physical comedy which need a more developed brain. We are not giving concerts that are watered down or childish. We take those little brains seriously. We are creating shows that we would like to see. But the shows are kid friendly, that is all!"
Why do you think live music is important for kids and families?
Elizabeth: "A live concert provides an opportunity for audiences to connect with musicians. The shared experience is a moment in time when a group of people come together and transcend the feeling of otherness to share a musical and emotional connection with each other. Recordings can never replace that."
Elif: "When you are at a concert, right nearby a violin or a soprano, or a cello, or a piano, or a viola, your body will vibrate with the sound. You will feel the music in your bones. You will see that the singer takes a breath, opens her mouth and produces that sound that will wash you away. In our shows, the child will see that that pretty lady who is in an a crazy or beautiful costume can also make amazing sounds out of her instrument. It is magic! It is a different experience than just knowing what a violin is. But feeling, smelling, almost tasting the instrument is only possible during a live show. I am hoping that we are creating the future musicians, composers, artists, film makers, writers and also the future generation of people who appreciate art and ask more from life. This memory will never fade from a child's head and will open new doors to the time of vast imagination and magic which we call childhood."
Erika: "It's important for people to realize that live music is an experience, a creation that happens only once in that moment. Plus, in our shows, the audience is a co-creator of that moment."
What is the hardest and easiest thing in this job?
Elizabeth: "None of it is easy, but it is all rewarding."
Erika: "In general, developing ideas and creating costumes and sets comes quite easily with this group. So much so that we rarely remember who originated an idea!"
What is next? 
Elizabeth: "We would love to take this show on the road! We are taking bookings for the next season. We are also hoping to do some audio and visual recording projects."
Erika Walczak (Violin)
Elif Savas Felsen (Soprano)
Mary Kelly (Viola)
Simone Vitucci (Cello) 
Elizabeth Sawitzke (Piano)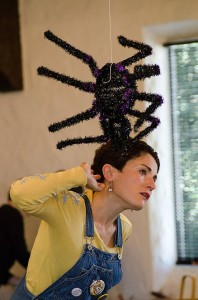 Photos by Onur Yeldan